SHS x KY Disney Sitz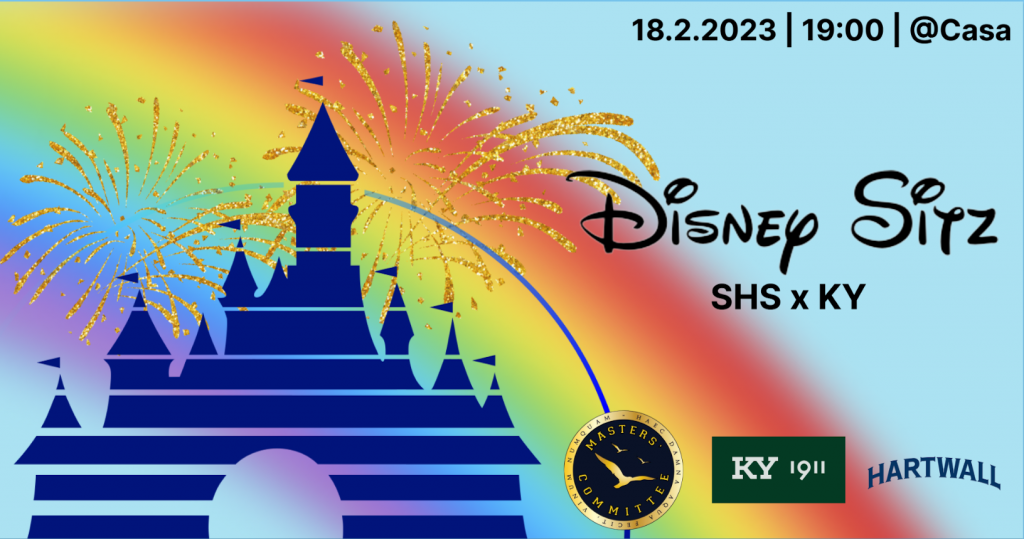 Detta evenemang kommer att hållas på engelska.
** This event is aimed at master's students of Aalto and Hanken but other students interested to join are also warmly welcome! ✨ **
—
"Mirror, mirror on the wall, what's the most magical sitz party of them all? 💫"
Hanken's Masters' Committee and KY's Masters' Committee invite all Master's students of Hanken and KY to SHS x KY Disney Sitz on Sat 18.2.2023 🏰
As the theme suggests, it's time to channel your favorite villains, heroes, main characters, sidekicks or childhood idols from Disney and spend a wonderful evening with us at Casa Academica so please bring your A-dress-up-Game 🐭 The sitz will start at 20:00 and doors will open at 19:00 but please arrive earlier (by 19:45) for a welcome drink, to find your seat and to do some mingling!
Tickets for the sitz can be bought online through Kide.app on 6.2.2023 starting at 12:00 (noon), and are sold on a first-come, first-served basis so make sure to get yours quickly! The price for a ticket is 15 € and please indicate any dietary restrictions in the comment field while purchasing the ticket. Make sure to also BYOB if you feel like enjoying some more drinks and BYOPB (bring your own plastic bag) if you wish for them to be kept cool. The after party will start shortly after the sitz so make sure to stay and party with us Disney style 🎉
If you have any questions regarding the event, please contact Tom from SHS 's MC (+358 44 243 5529) or Iida from KY's MC (+358 50 347 3662).
🌈 WHAT? SHS x KY Disney Sitz
🌈 WHEN? 18.2.2023 at 19:00–23:30
🌈 WHERE? Casa Academica (Hietaniemenkatu 7)
🌈 FOR WHOM? All SHS and KY master's students and other like-minded students interested in the event!
🌈 DRESS CODE? Disney!
🌈 PRICE? 15 €
🌈 HOW TO GET A TICKET? Kide.app on 6.2.2023 at 12:00 (noon). The link to the ticket sale will be provided later
Hope to see you all there! 🪄
*SHS and KY have a strict no-tolerance policy for any kinds of harassment or inequality and in issues regarding them please contact Iida from KY's MC (+358 50 347 3662) or Tom from SHS MC (+358 44 243 5529) or Frida from SHS Executive Board (+358 40 848 1194)
*By attending this event, you agree to comply with KY's Code of Conduct: