SHS Annual Ball – the Best Party of the Universe
SHS celebrates its traditional Annual Ball on February 24th, the day when freedom of enterprise was introduced in Finland. Over 400 students and guests of honor gather for the most solemn and biggest party of all SHS events – the Best Party of the Universe.
The Annual Ball program consists of the Solemn Conferment, supper and nachspiel with dance and live music. The dresscode is white tie or formal attire – black tail coat and formal evening gown with academic orders of merit.
SHS CXIV Annual Ball
SHS CXIV Annual Ball will be held at Ravintola Töölö. The ticket sale for the supper including nachspiel is on the 25th of January at 13:00 in Kide.app. Separate tickets for the nachspiel will be sold on February 1st at 13:00. The link to Kide.app where you can buy your tickets both for the supper and separate tickets for the nachspiel will be published below:
The Annual Ball is sold out
If you didn't manage to get a ticket to the Annual Ball (supper + nachspiel), you can register for the waiting list below. We'll personally notify the people on the list about possible available tickets in the order in which you registered.
Sign up for the waiting list here
Buy your tickets here (nachspiel) If you have an Annual Ball ticket, you do not need to buy an after party ticket since it is already included.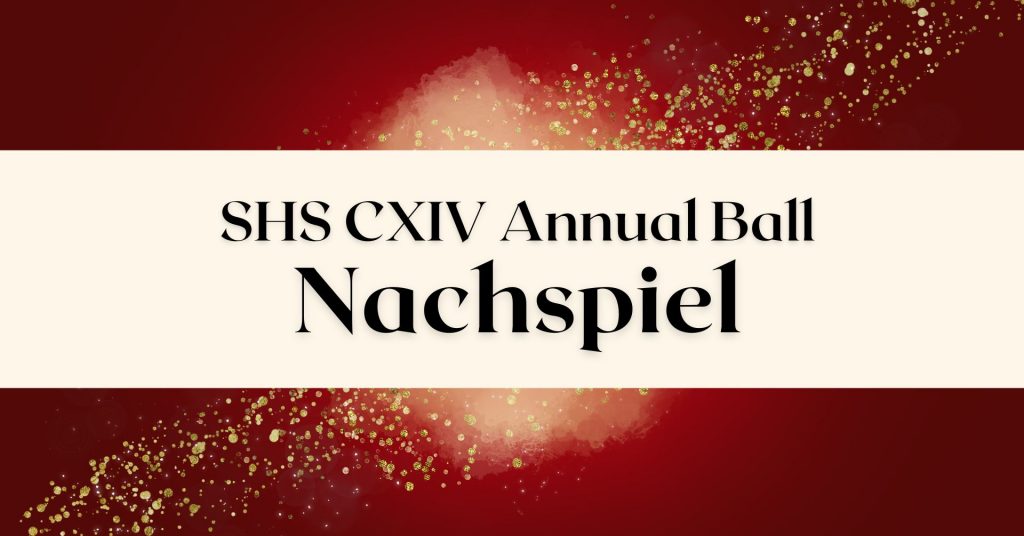 The price for a separate nachspiel ticket is €15 and with the ticket you can participate in the after party in Ravintola Töölö from 00:00. Dresscode is cocktail/suit.
Request for seating arrangements
Requests for seating arrangements are made via this google form
One person from the desired seating party submits the request. Requests are made for 2, 4 or 10 people (you cannot submit the same name in two different requests, or we take the liberty of
choosing the arrangement). Note that we follow first come first served practice, and we cannot
guarantee that requests for seating arrangements will be realized even though the request is
submitted on time. We do our best to satisfy all requests.
The form closes on Sunday 5 th of February at 23.59.
The Annual Ball program
The Annual Ball is celebrated both at Hanken (in the foajé and assembly hall) and at Ravintola
Töölö. See the program below for a detailed timetable.
15.30 Domestic Schools Greeting (only for invited friendassociations, -student unions and –
nations, invited separately)
16.30 Cocktail at Hanken's foajé
17.00 Solemn Conferment at Hanken's assembly hall
19.00 Cocktail at Ravintola Töölö
20.00 Supper at Ravintola Töölö
00.00 Nachspiel at Ravintola Töölö (tickets can be purchased only for the afterparty)
The Annual Ball Zillis is organized by Casa Nostra on the 25th of February.
Zillisinfo
If you are an invited guest (kårpamp or representative of friend associations, -student unions and -nations) and have not received information about the zillis, please contact emilia.donner@shs.fi.
Discounts
This year we also offer discounts to Hotel Helka, Frakki.fi, Frakkipalvelu NAM and hairdressing salon L'Artist.
Frakkipalvelu NAM offers -5% on the rental of tailcoats. Remember to present your student card. https://frakkipalvelunam.fi
Hairdressing salon L'Artist offers -15% discount on hairdos on the Annual Ball day (24.2.2023),
and -10% discount on all services during the period 1.1-24.2.2023. Discount code: HANKEN.
http://lartist.fi
In honor of the Annual Ball, Hotel Helka offers rooms at a discounted price for the partygoers during 24-25.2. The hotel is located right next to the party venue and with our discount code you can book a room at -12% of the day's price. The discount code is SHSCXIV. Book your room: www.hotelhelka.com
Frakki.fi offers all Hanken students -10% discount on their tailcoat packages. Remember to present your student card. The package include a tailcoat jacket and shirt, waistcoat, braces, bow tie, handkerchief and coat buttons.