Sports
On this page you will find more information relevant to sports.
there are also many clubs that engage in weekly sport related activities.
UniSport
Banish your study stress by exercising at UniSport! UniSport exercise centres can be found in the centre of Helsinki, as well as Töölö, Kumpula, Meilahti and Otaniemi in locations that are easily accessible by public transport. As a student of Hanken School of Economics you are entitled to UniSport's low student prices. Our season ticket gives you access to five different gyms and nearly 40 different types of group training classes at all our centres.

At UniSport you can take part in diverse forms of exercise ranging from ball sports to indoor cycling and from yoga to BodyAttack. We also offer exercise courses that can help get you started with a completely new sport, or you can deepen your skills with an advanced course. Our popular courses include, for example, lessons in dance, as well as Personal Training in small groups under the guidance of a professional coach. We take a comprehensive interest in your well-being, which means that you can take care of your body and your mind through massage, nutrition services, and even taking a nap.
Commitment to training at UniSport is flexible. Training cards of different durations are available, as well as 10-visit cards, or per-visit fees. The cheapest option is our 12-month training card for Hanken students.

We are open for your exercise needs from early morning to late evening every day of the week. Come exactly as you are at any time that is convenient for you. There is always a good feeling at UniSport!
Read more about UniSport on our website: unisport.fi.
Sports
The Student Union offers a broad variety of sports activities for all SHS members. There are several clubs that organise sportevents such as badminton sessions, skiingtrips, hiking and so much more. We also have our very own Sports Committee, committed to organise sport activities for everyone interested.
As a Hankeit you have the opportunity to train at Unisport for a very student friendly price. Read more here: https://unisport.fi/?page=yleista#643
Equality and harrasment
Hi everyone!
We are the equality- and harassment ombudsmen for this year! We are here to help, support and take cases concerning equality and harassment, that comes to our knowledge, forward. Our names are Frida Winberg and Axel Anderson. We are both in the 2023 Executive Board and have the posts social affairs and educational affairs.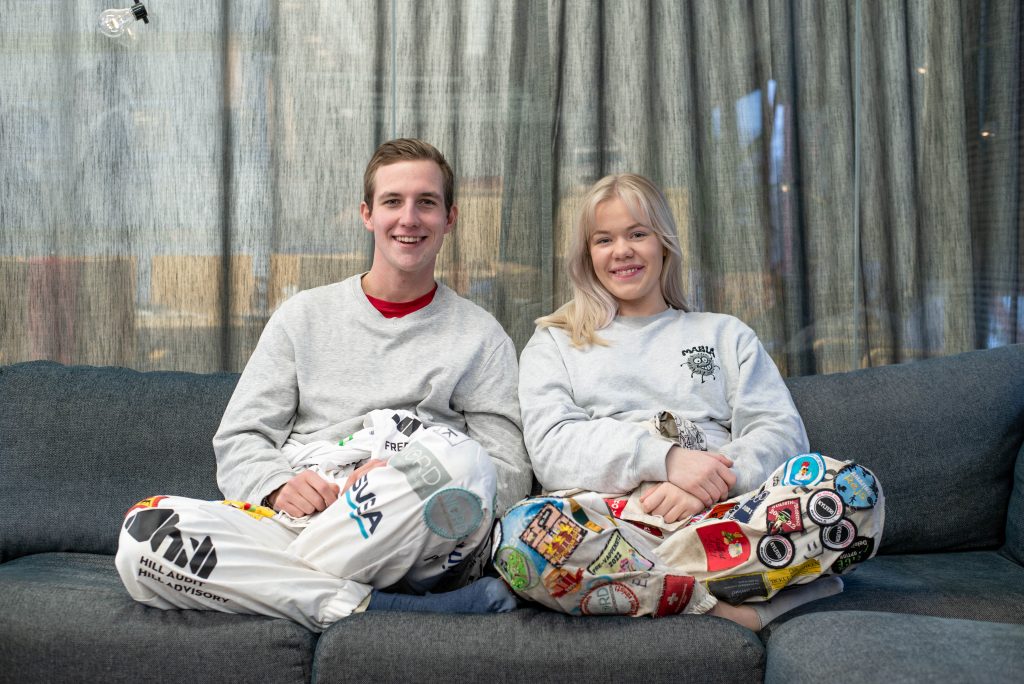 Our student union's slogan is "The funnest student union in Finland" and we are here to make sure that everyone feels this way. No one should feel like they are being treated badly or be offended in any way. All our members are equally important and meaningful and everybody should be treated accordingly. We strive to be a student union where everyone feels welcome.
If you feel mistreated in any way, do not hesitate to contact us immediately. We want to point out that no issue is too small. The easiest way to get in contact with us is by emailing us at equality@shs.fi. If you or someone you know is being targeted, please let us know. You can also come and talk to us in person if that feels better. You can of course also get in contact with us via our personal emails frida.winberg@shs.fi and axel.anderson@shs.fi. Also important to point out is that all matters brought up to us are confidential and no information will be shared.
For an equal and harassment free student union!
Frida Winberg, Axel Anderson
Student health service
When you have paid your student union fee you have the right to use the student health service. This means that you can visit any of their healthcare stations and get free or cheap healthcare. For you who studies at Hanken in Helsinki, your nearest healthcare stations are at Tölögatan 37 A in Helsinki or at Otnässvängen 12 in Espoo.

FSHS provides general, oral and mental health services for students. You can book an appointment by calling the healthcare station, please find out more about the numbers here: http://www.yths.fi/en/contact_details/units/helsinki

FSHS also provides the Self service where you can check, book (if you have gotten permission to do so by a doctor) or rebook your appointments. It is recommended that you start using the Self service as soon as you have paid your student union fee. FSHS also has access to OmaKanta where all of your earlier medical history is saved (if you have an Finnish ID number) to make sure you get the best possible treatment.
For more information, please visit FSHS webpage: http://www.yths.fi/en/